Since the schools reopened, everyone is doing their best to keep their kids, themselves, and others safe from COVID-19. The kids are also trying to learn to navigate this school year with pandemic related restrictions. It is a learning curve for everyone. As mandatory in most of the schools, the parents fill the "completed Health pass" every day before sending their kids off to school.
What are the symptoms mentioned in the Health Pass?
Fever more than 37.8°C
Difficulty breathing
Cough
Loss of taste or smell
Sore throat
Painful swallowing
Stuffy or runny nose
Headache
Nausea
Vomiting
Diarrhoea
Feeling unwell
Muscle aches
Feeling tired
If your child has been near someone with coronavirus or has traveled recently, the school should be informed about that.
Is your school going kid showing COVID-19 symptoms?
It is difficult to know if it is allergies, cold or Covid-19? The vaccine for coronavirus is still in a developing stage, and this pandemic has shaken the world. Worrying about us or our family getting COVID-19 is a constant fear for most of us. What if your child has one or more symptoms from the list and you are not sure what to do next? Though the rules differ from place to place, these guidelines will still be helpful on what to expect.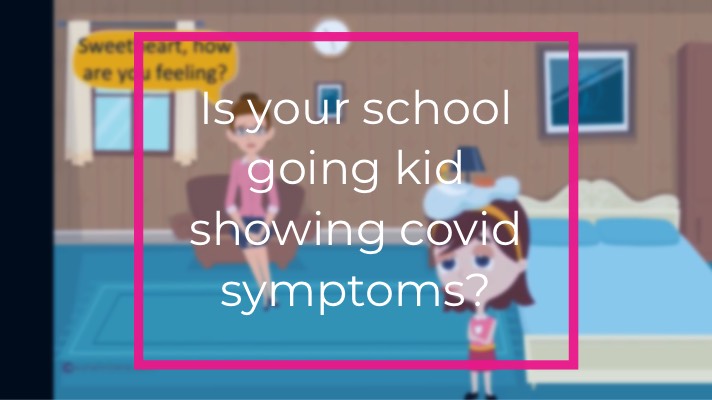 Guide if your kid showing COVID-19 symptoms
The student stays home until he/she is symptom-free for 24 hours.
If the symptoms start improving in 24 hours, the student can return to school, no test needed.
Keep other people and pets in the house away from your child as much as possible.
Call Public Health.
Follow the instructions provided.
If you have another school going kids, clarify with Public Health for them as well.
You can choose to get a COVID-19 test for your kid or wait for her to recover at home.
Please check with the school/daycare as well. Some may require a note from a doctor before rejoining.
Process for COVID-19 Test
For Ontario locations and online booking, visit:
https://covid-19.ontario.ca/assessment-centre-locations/
On the day of the test – reach early.
Inform your kid beforehand about the swab test procedure. It is usually uncomfortable but not painful.
To check your results, please visit:
https://covid19results.ehealthontario.ca
Results can take up to four days.
If the result is negative and your child is symptom-free, you can take a screenshot and share it with the school/daycare before sending your child back.
If the result is positive, you will get a call from your local Public Health Unit.
How can I keep my family safe if my child has COVID-19 symptoms?
Keep your family home until you talk to your doctor or local health department.
Only one adult should attend to the sick kid to prevent exposure.
Keep other people and pets in the house away from your child as much as possible.
Everyone in the household should wash their hands often or use an alcohol-based sanitizer.
Manage the spread of germs with regular cleaning in the home using disinfectant wipes, spray, or bleach.
Keep a close eye on your child's symptoms.
Call 911 in case of an emergency.
To test someone for coronavirus, doctors put a long Q-tip (a swab) into the nose or mouth, then send it to a lab.
It is better to err on the side of caution The most important thing we can do to help slow the spread of COVID-19, is to screen our children daily for any COVID-19 symptoms and keep them home from school if they are sick or have close contact with anyone diagnosed with COVID-19. We all have a role in keeping everyone safe and healthy.